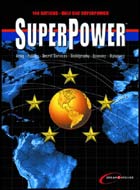 SuperPower is a geo-political strategy game, and it is turn based. It is the first game of its kind and has 4 spheres of gameplay: Economics, Military, Demographics, and Politics. You choose the goals and time limit which lets you decide on the difficulty. You can chose from many nations that are recognized by the United Nations. This game is also single player only.
Ad blocker interference detected!
Wikia is a free-to-use site that makes money from advertising. We have a modified experience for viewers using ad blockers

Wikia is not accessible if you've made further modifications. Remove the custom ad blocker rule(s) and the page will load as expected.