Introduction
Edit
Paraguay is a landlocked country in
South America
between
Argentina
,
Brazil
, and
Bolivia
. It's capital is Asunción, on the banks of the Paraguay River, is home to the Grand Government Palace and the Museo del Barro.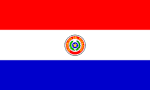 Paraguay has a pretty managable economy it's Rank 82 in terms of GDP, in GDP Growth it is Rank 65, it's Economic Strength is Rank 60, in terms of Resource Balance is Rank 144, it's Per Capita is $4 569, Unmeployment Rate 3.2%, Below the Poverty Line is 52.4%, and its Inflation is 8.00%.
Paraguay has a Soldier Count of 7 719 which is Rank 104, it has a Ground unit count of 62 which is Rank 137, it has an Air unit count of 32 which is Rank 94, it has no Naval unit because it's a landlocked country, and it's overall Military Strength is Rank 112.
Ad blocker interference detected!
Wikia is a free-to-use site that makes money from advertising. We have a modified experience for viewers using ad blockers

Wikia is not accessible if you've made further modifications. Remove the custom ad blocker rule(s) and the page will load as expected.