Cuba is a country in North America.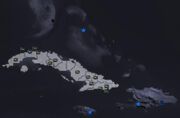 Cuba has a debt of $1,810,110,485 and has a significant deficit. Due to an Embargo with the United States, Cuba has no active trades.
Note: There is a bug in the game with Cuba. If you set export everything while government controlled, and quickly conquer Mexico, you will have a budget proficit of 2T+ dollars. This bug hasnt been detected with any other country. In order to get maximum profit, you must take over Mexico by 2002, which is quiet easy. Note that setting GTM will double or triple your income. This bug can be used to take over the world!
Political
Edit
Cuba is a Single Party Democracy, led by the Cuban Communist Party. It has an approval rating of 48%, No Pressure, a stability rating of 42.7% and a corruption level of 42.7%.
Internal Laws
Edit
Religions
Edit
other - 14.9% Legal
Roman Catholic - 85% Legal
Languages
Edit
Spanish - 100% Legal
Freedom of Speech - Legal
Freedom of Demonstration - Legal
Woman Suffrage - Yes
Number of Children per Family - Unlimited
Abortion - Illegal
Polygamy - Illegal
Child Labor - Illegal
Same Sex Marriages - Illegal
| | | |
| --- | --- | --- |
| Type | Number | Rank |
| Soldier | 16211 | 80 |
| Land | 4003 | 38 |
| Air | 282 | 36 |
| Naval | 39 | 52 |
Cuba has not researched strategic forces or the AMDS system.
Ad blocker interference detected!
Wikia is a free-to-use site that makes money from advertising. We have a modified experience for viewers using ad blockers

Wikia is not accessible if you've made further modifications. Remove the custom ad blocker rule(s) and the page will load as expected.