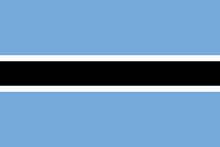 Introduction
Edit
Botswana is bordered by Zambia and Zimbabwe to the northeast, Namibia to the north and west, and South Africa to the south and southeast.
Botswana may seem like a normal African country being in poverty and having a small military, but it has huge potential in the African region due to its incredibly large amounts of Precious Stones. It is recommended that you tax this resource heavily (around the 50% range) and do not make it state controlled. (This will only make you lose large amounts of your surplus of it). However, only use this as a headstart and not as your main source of income, as if a country invests large amounts into Precious Stones, your economy will crash.
Ad blocker interference detected!
Wikia is a free-to-use site that makes money from advertising. We have a modified experience for viewers using ad blockers

Wikia is not accessible if you've made further modifications. Remove the custom ad blocker rule(s) and the page will load as expected.